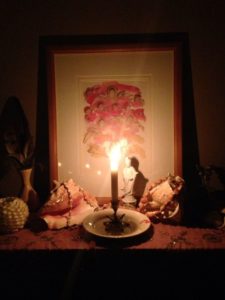 To trust in the flow of life is a gift! To trust in yourself is a powerful resource. This month gives you more opportunities to lean into life a little more and experience what happens when you let go and risk a bit of adventure. And adventure can lead to more glow!
With Mercury turning retrograde and the days becoming darker (in the Northern Hemisphere), the natural inclination is to go inward and review the year. This is part of the organic flow. Your inner glow is calling!
What might you do to create a little more time for YOU?
What are you appreciating about your growth this year?
Where are the bright lights in your life?
In keeping with our astrological shift into Sagittarius, travel and adventure are waiting for us. Healthy risks can spice up your life this month.
Is there an adventure you want to take or plan?
What 'inner adventure' is calling to you?
Where in your life can you stretch just a little to engage with a new perspective?
Just as we end the year with Saturn moving into Capricorn with its emphasis on structure and reliability, you'll have lots of opportunity to see where you trust yourself and where you can develop more trust and become more trustworthy.
What is trust for you?
How do you allow trust to develop in relationships?
What do you trust the most about yourself?
Finally, the Sun's 'return' on Solstice heralds our time of illumination. Being a radiant being means engaging in the activities that bring you joy, help you feel your best, and encourage you to listen to your inner guidance.
When do you feel at your best?
What feels most pleasurable to you right now?
How are you talents recognized by others? By you?
Remember, you are an opening for light and love. This month you get a chance to see how much you shine and how your brilliance gives others the chance to shine as well.
This is a fabulous time to initiate your ideas and projects in powerful ways. This month opens up new pathways inside you and around you.
Ultimately, how do you want celebrate all that you have accomplished?
Key Words:
Radiance
Self-esteem
Confidence
Innovation
Things to watch for:
Internal Balance
Spontaneity
Natural radiance
Challenges to navigate:
Self-doubt: what triggers doubt in you? Is there a pattern you can isolate and then shift? If you keep a journal of your 'successes' you can remind yourself of the truth whenever your mind starts to chatter.
Over-extension or over-giving: how might you remember to start with yourself more? During these busy times it is even more important to give to yourself first!
Affirmations to repeat:
I value who I am.
I see what can be of benefit to people in the future.
I am a radiant lighted being.
Blessings on their way:
Clarity
Prudence
Wisdom
Your Sensuous Wisdom™ Reflection Questions:
How are you embodying your natural brilliance?
What aspects of your life support you in taking healthy risks and enjoying your life?